To go Home, go to: 
Home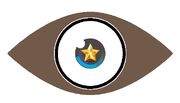 BIG BROTHER 8: SPORTS STARSEdit
CELEBRITY BIG BROTHER 1Edit
Introduction
Edit
6 Sports Celebrities entered the House on Launch Night. 3 of them were sent to the House while the other 3 were sent to the Basement. In the Basement, the Houseguests could not be nominated or evicted and the House had no idea they were there. Every week one would be sent upstairs to the House to be warm and have good food, but could face eviction. The 1st Week and 3rd Week, 2 new Houseguests entered the House to make up the 10 Houseuguests in total.
Note: Desmond Miles retired as host, so Bacca took over.
Weekley Results
Edit
Houseguests
Week 1
Week 2
Week 3
Week 4 P2
Week 4 P2
Week 5
Finals
Cam Newton
6th Place

Eli Manning

WINNER
Cristiano Ronaldo
3rd Place
Matt Ryan
RUNNER-UP
Phillip Rivers
7th Place
Doug Glatt
9th Place
Robert Griffin III
4th Place
Russell Wilson
10th Place
Dustin Brown
5th Place
Steve Yzerman
8th Place
Yellow = Winner     Gray = Runner-Up     Blue = Nominated     Red = Evicted     Orange = Immunity     Purple = Not in House yet     Green = In the basement     Beige = Nothing for that week
Note: As of Week 4, everyone is nominated
Note: Week 4 was a double eviction
Finals: Final 6 are cut down to the winner