To go Home, go to:
Home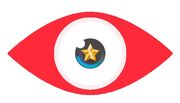 BIG BROTHER 9: YOUTUBE STARSEdit
CELEBRITY BIG BROTHER 3Edit
Introduction
Edit
12 YouTube Stars/Celebrities entered the House on Day 1. The first 5 that entered, Anthony Padilla, ASF Jerome (Bacca), Bajan Canadian, Cupquake, and Freddie Wong were faced with the Public Vote. When the 12th Houseguest entered the House, Freddie, who received the lowest amount of votes, was evicted. Also, Marzia, randomly selected, had the power of Poisonous Eviction. On a random night, whoever she was with, would be evicted. What she didn't know is that the Public voted that she be evicted as well. Eviction Night #1 was the random night and Marzia, Harley, and Muscle Glasses were all evicted. Bit on the Side, a talk show about Big Brother was created next to the House.
Weekly Results
Edit
| Houseguest | Launch Night | Week 1 | Week 2 | Week 3  | Week 4 | FINALS |
| --- | --- | --- | --- | --- | --- | --- |
| Anthony Padilla | | | | | | 6th Place |
| ASF Jerome (Bacca) | | | | | | WINNER |
| Bajan Canadian | | | | | | RUNNER-UP |
| Cupquake | | | | | | 3rd Place |
| Freddie Wong | | 12th Place | | | | |
| Harley Morenstein | | | 9th Place | | | |
| Ian Hecox | | | | | | 5th Place |
| Marzia | | | 11th Place | | | |
| Muscle Glasses | | | 10th Place | | | |
| PewDiePie | | | | | 7th Place | |
| SkyDoesMinecraft | | | | 8th Place | | |
| Toby Turner (Tobuscus) | | | | | | 4th Place |
Yellow - Winner     Gray - Runner-Up     Blue - Nominated     Red - Evicted     Orange - Immunity
Purple - Marzia's Poisonous Eviction